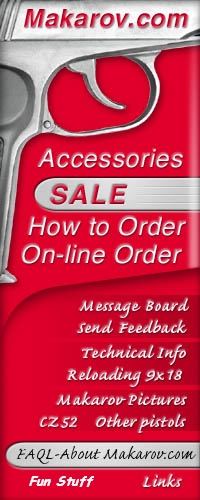 Citibank cards not welcome at Makarov.com
Read the AP story below and make up your own mind whether you should keep your Citibank accounts and credit cards. Need to verify the source? Hit http://wire.ap.org/ and search for the story...it's there.

FEBRUARY 19, 05:01 EST

Citibank Accused of Discrimination

DENVER (AP) — Gun owners and firearms dealers in Colorado are accusing Citibank of discrimination because of the financial company's long-standing policy that limits service to companies that make or sell guns.

``This is basic discrimination — political correctness run amok,'' said James W. Winchester, a former assistant U.S. attorney who is now vice president of the Colorado State Shooting Association. ``It says that we are not good citizens because we are associated with firearms.''

A Citibank letter about the closure of a Las Vegas gun dealer's account is circulating in the gun industry and raising hackles. The Feb. 7 letter from the bank notifies the Nevada Pistol Academy that its checking account has been canceled ``due to Citibank not maintaining accounts for businesses that deal in weapons.''

Citibank spokesman Mark Rodgers said the account with the Las Vegas gun dealer ``should not have been opened in the first place'' and was closed because ``it wasn't in compliance with this policy.''

He added that the police has never caused problems before.

``We have a long-standing policy of not engaging in long-standing financial relationships with businesses that manufacture or sell military munitions, military weapons or firearms,'' said Rodgers.

The owner of the Nevada Pistol Academy declined comment, saying only that the issue has been handed over to the National Rifle Association.

NRA spokesman Jim Manown said the organization was looking into the Citibank policy, which he said he had not heard of until Friday.