Makarov CO2 Pistol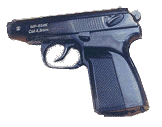 EAA Corporation began importing CO2 Makarovs from the Izhmech Factory in Russia in March 1999. Here are some pictures and information about this pistol.

Overview

Designated the model MP654K, this pistol is based on the high-capacity Makarov frame, but altered so that it cannot be easily converted into a real pistol. Many of the internal parts are genuine Makarov, and except for some minor points that give it away as an air gun, the pistol looks and feels like the real thing. Weight: 1.6 lbs.

Operation

The MP654K is intended to fire standard .177 caliber BBs propelled by bursts of gas from a standard CO2 cartridge. The 3.75" barrel is rifled and fixed to the frame of the gun.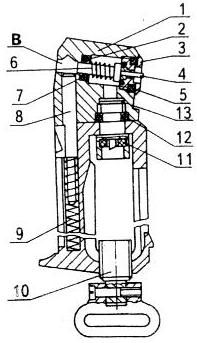 The heart of the gun is the integrated magazine and CO2 delivery system. The magazine inserts into the gun the same as the standard Makarov, but it contains a spring-loaded BB magazine and a CO2 cartridge storage and valving system.

Once properly loaded, the MP654K is fired like a standard Makarov. The hammer hits a special "firing pin" that actuates a valve in the "magazine". The burst of CO2 from the cylinder forces the BB down the barrel. Nominal muzzle velocity is 380 ft/s. The MP654K can be fired semi-auto to deplete the 13-round magazine.

Excerpts from the Instruction Booklet

Click the link above to see excerpts from the MP654K instruction booklet including a pistol and magazine schematic.

At one time, Makarov.com did some limited edition CO2 Makarovs. These are not available any longer.
Click on Model name for Description and Pictures
Pictures of the Original Version, CO2 Makarov

Click on each image to see larger version: