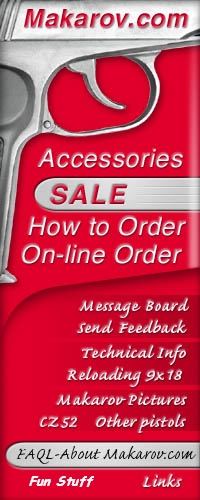 The Makarov Page - First Annual Postal Match Results
Summary
The first annual Makarov.com postal match drew 14 entries, all of which were shot with actual Makarovs (no clones). In fact, there were only Russian and East German Makarovs. Many people responded that they had fun, which was the whole point, of course. Some made clever comments on the targets or accompanying letter. :-)
Scoring
Most people submitted 3 targets as requested, even though only 2 were scored; some submitted 2 and thus have a 0 score for the third. About half scored their own targets. We only counted X hits on the rapid fire once because of a numerical tie score. Overall scoring was based on the sum of the best 2 slow fire and best 2 rapid fire targets. A perfect score would have been 320 (8 shots on 4 targets, 10 points possible per shot).

What are the winning categories?
Here are the categories and winners:

Best overall score

1st Place: Verne Bowers
2nd Place: Bob Chamberlin

Best stock (no modification) Makarov

1st Place: Verne Bowers
2nd Place: Adi Stephan

Best East German Makarov

1st Place: Barry van Wickevoort Crommelin
2nd Place: Jeff Dunstan

(Sorry, no "best Russian Makarov category"...otherwise Verne would totally clean up here. :-)
Gag category winners:
Most creative group - Verne Bowers...again! He shot a target and connected the holes and put the comment: "The Red Star after fall of communism". Here's a picture of the the target.
Most excuses for not getting a higher score - Dave Pinkerton: "Dust in my eyes. Hay fever. Snake crawled over boot. Moon in the wrong phase."
Last entry to make the deadline - Perry Rasmussen: It was 2 days late, but we accepted it anyway.
What are the prizes?

All 1st place winners receive a gift certificate good for $15 of merchandise at Makarov.com
All 1st and 2nd place winners receive a Makarov.com T-shirt and a signed copy of the Official Makarov Manual.
All gag category winners receive a "too small" magazine pouch and a "goof-up" Clearshot. Hey, they're sorta gag prizes. :-)
Prizes will be sent out in the next few weeks to the addresses we have on file for the winners.


How do I claim my prize?


The only thing we need to know from the winners of the non-gag categories is what size T-shirt you would like. We have sizes M-3XL. Stop by the feedback form and let us know.


When will you have another match?
This one turned out to be a lot of work, but we may run another match this fall. In any case, there will be another next summer.


I entred and got a low score. Now I'm bummed.


We can't all be above average. Besides, you entered! Most people didn't even get off their duffs and participate. Now you also have a reason to get out there and practice instead of just sitting in front of the computer and reading the message board. :-)