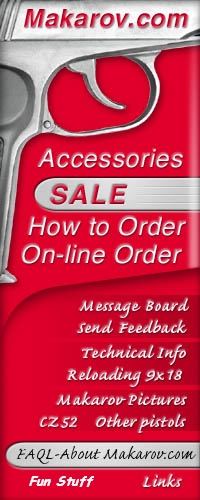 The Makarov Page - 1999 Postal Match Results
Summary
The second annual Makarov.com postal match drew 11 entries, all of which were shot with actual Makarovs (no clones). Many people once again responded that they had fun and that it was a good excuse to go out to the range, which was the whole point, of course. It was nice to see more reloaded ammo this year. Nobody decided to use the CO2 Makarov.
Scoring
Everyone submitted 3 targets as requested, even though only 2 were scored; one submitted only slow fire and not rapid fire. All scored their own targets (thank you!!!). We had a tie for overall second place, but Michael Baerg eeked out Mark Kimmel by getting a 2X (2 center hits) on the slow-fire over Mark's 1X.

Overall scoring was based on the sum of the best 2 slow fire and best 2 rapid fire targets. A perfect score would have been 320 (8 shots on 4 targets, 10 points possible per shot).

Good shooting, guys! (No gals entered...where are ya?)
What are the winning categories?
Here are the categories and winners:

Best overall score

1st Place: Barry van Wickevoort-Crommelin
2nd Place: Michael Baerg

Best with commercial loads

1st Place: Michael Baerg
2nd Place: Matt Clyker

Best with reloads

1st Place: Barry van Wickevoort Crommelin
2nd Place: Mark Kimmel
Gag category winners:
Most creative group - Matt Clyker: He shot a target and connected the holes and put the comment: "'M' for Makarov".

Best excuse for not getting a higher score - Jess Jessup: "Too much turkey, too little practice."
What are the prizes?

All 1st place winners receive a gift certificate good for $25 of merchandise at Makarov.com
All 1st and 2nd place winners receive choice of a Makarov hat or a T-shirt and a signed copy of the Makarov Owner's Manual.
Gag category winners receive a "yellow flap" shoulder holster. Hey, they're sorta gag prizes. :-)
Prizes will be sent out in the next few weeks to the addresses we have on file for the winners.


How do I claim my prize?


The only thing we need to know from the winners of the non-gag categories is what style hat you would like or what style and size of t-shirt and the shipping address where you would like it sent. Stop by the feedback form and let us know.


When will you have another match?
By demand. Let us know if you'd like to see another match held.


I entred and got a low score. Now I'm bummed.


We can't all be above average. Besides, you entered! Most people didn't even get off their duffs and participate. Now you also have a reason to get out there and practice instead of just sitting in front of the computer and reading the message board. :-)