Makarov.com - Hats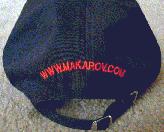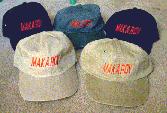 ---
Makarov.com Oval Patch and Rocker Bars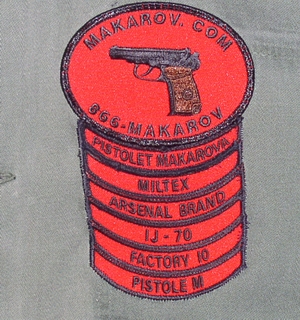 Makarov.com - Stickers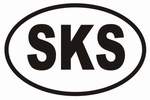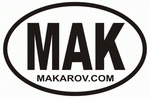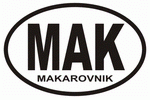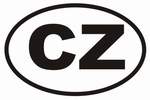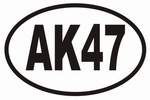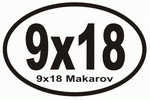 ---
The Makarov Page - Coffee Mug Design
After quite a few requests for mugs and other non-shooting accessories with Makarov graphics, we found a graphics designer worthy of the task. All of the graphics features in these products are razor-sharp and produced with dye-sublimation methods. That means they are photo-realistic because they are from photos and not some cheesy silk-screened graphic. This process is a bit more expensive, but we really think the results are worth it.

---
Can Coolers
Using the same design as a the mugs, this cooler has a hook and loop closure to keep your soda or beer cold! Available now!

---
Mouse Pads
If you have a computer, you probably have a mouse. And if you're a Makarov fan, you need this mousepad! Features razor sharp graphics, soft but firm surface needed for crisp mouse operation, and padded to reduce fatigue. Most importantly, it looks like you've got an original Russian Military Makarov sitting on your desk! Shock the office folks or let it start a great conversation.


---
The Makarov Page - T-shirt Design
"From Russia With Love..."
A reader suggested the idea of a Makarov T-shirt, so we threw it out for discussion on the May WWW Makarov discussion board. Suggestions rolled in and we've come up with a few designs. The "From Russia With Love" was the winner.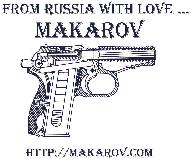 "From Russia With Love..." - The winning design.

---
"KGB Approved..."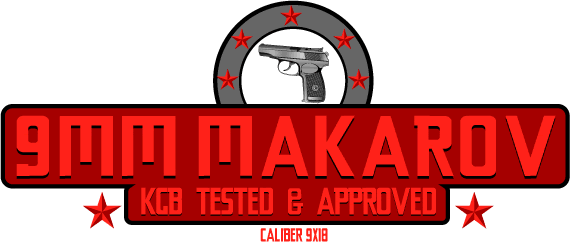 Mosin Nagant PU Sniper T-Shirt

Various Custom designs done by Karl Bloss
---
Makarov Collectors Coins
Makarov Collectors Coins
The Face Side has a detailed bust of the Man himself, Nikolai Federovich Makarov.
The Flip side has a very detailed Makarov Pistol, surrounded by the
Models of the Original Military Issue Makarov Pistols.
These Coins are Minted for Makarov Collectors by N.W. Territorial Mint, the largest private Coin producer in the USA. Each coin comes incased in a clear Lucite protective cover, and is shipped in a velvet drawstring storage bag. Each coin is a Mint Proof, Die Struck stamped, and hand inspected.
These coins were issued in Sterling Sliver, Polished Bronze (MerlinGold), and Polished Nickel
Click on the thumbnails for larger Detailed Pictures.

There was a total of 50 1st Edition silver coins, 25 2nd edition Silver coins, 50 1st Edition Nickel Coins and 100 1st Edition Bronze coins.
---
We have also sold or given away as promo items over the years,
Over 500 lighted key chains,
200 Water bottles,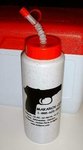 400 Plastic Coffee Mugs,
1500 Silicone Gun Cloths,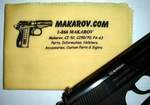 800 Ditty bags,
500 Stick on Calendars,
500 Key chain Flashlights,
250 Brass Key Fobs,
1200 Gun Sacks,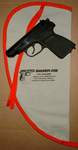 and over 12,000 ink pens.

---
[Main Makarov Page] [Makarov FAQ] [Makarov Links]
[Makarov Accessories] [Makarov Pictures] [Makarov Reloading Manual]